It's the night pre-dawning Tuesday 2nd May 2017 and I do believe I may take the box for a walk earlyish this morning from its perch at the Bird's Nest for a proper pinhole experiment in photography. If anyone would care to join me, certainly please do indeed.
Then again, I may not. I may not have the steam in me but I do hope to join the last Gang Stalking Protest Before The Dissolution Of Parliament  in preparation for our upcoming Premature General Erection so will aim to get off my arse for that at least.
As to the box making it there too, well, I would like to experiment with an actual pinhole composition and it seems oh so appropriate what with all this supposed harrassment and surveillance and what not. Furthermore, I'd always hoped to get a people-filled perspective of parliament inverted.
Anyone up for the hoinking of said camera obscura for political pinhole experiments this coming morn, find us at the Bird's Nest or on route up the Old Kent Road to W1 hoping to arrive sometime from 11am…photographic experiments best carried out around midday when our Dear Beltane Sun is above us. Or anytime thereafter.
E.R.m?…I'm so excited about the upcoming premature general erection. In the words of our current Prime Minister…'The whole of the country is coming together but Westminster is not.'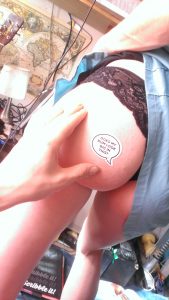 Getting close to Post E.R. my arse. Those new to this site, no I am not arms dealer. I've been doing my bit for world peace by METAPHORICALLY SPREADING MY ARSE as my work is generally imbued with a sense of irony and much to the disdain of some, sarcasm too.
Keeping ones wits and sense of humour about them is a job and half these days.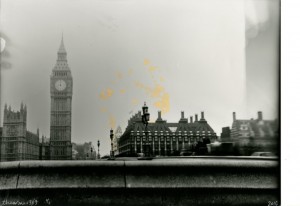 InvE.R.sions of WestminstE.R. almost processed and typing this whilst alleged attack outside of parliament is going on. Was meant to meet a friend thE.R.e today to join a weekly vigil during Question Time against covE.R.t govE.R.nment harrassment and surveilance, mighty glad I opted to update this site instead.
https://gogetfunding.com/deptfordminesweeper-fire-fund/
My presence on the www has been incredibly limited for some time now but that doesn't mean I've gone away. Quite the contrary in fact. Examples of recent work, all in progress, are currently exhibited in the Bird's Nest SE8 4RZ, open daily from noon til close. Saturday 6th February 2016 includes daytime obscura activity, weather permitting and live music from 6pm-3am. A cracking line up including thearmed909, JLYY and Mad Dog Collective. Furthermore it's all free. We'll also be hosting an evening of LIVE ART on Tuesday 16th February, 7-11pm and a closing down sale on Thursday 25th February, 5-7pm.
Eileen The Cameravan is still off-road but with thanks to the hospitality of The Hive in Hackney and some faithful support behind the scenes, I have built an alternative box camera obscura on wheels that I recently pushed and pulled from Deptford to Westminster and back again with a little help either end of the journey from Terry the Wizard of New Croz and Rankin the Clown.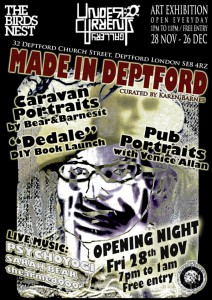 In the dark hours before dawn on Christmas Eve 2015, I experimented with test shots of the inversion of parliament and they came out well all things considered. What I'd love to do next is get ETC there for the final composition at 09.09am…one day perhaps, or perhaps not…or perhaps I'll be pushing and pulling that pesky box again, or perhaps I'll score a lift all the way…whoevE.R. knows…
thearmed909: the art of The KJB, ETC and Everything Really, amongst other things.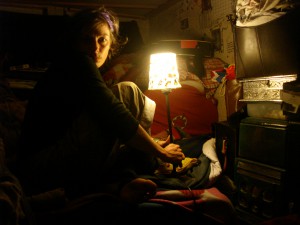 Oh yes, I'm a lucky lady, I live a very lucky life.
For I have so many friends and family all around me, who love me through the strife.
Oh but I notice a deep sense of sorrow emanating through my songs.
Oh but this pain is not within me.
It's just a reflection of the too many wrongs.
Carried out by those above who rule us, dictacting the systems and structures we live under.
Misleading us up the wrong garden path and expecting us to conform and soldier on.
So, come the cultural rain and thunder, for my cloud is so ready now to burst.
For I feel the social storm that's been brewing now for far too long.
It's time for Mother Nature's children to be heard.
Please don't get me wrong, I'm an artist and I see beauty all around me.
Life's potential and sheer, utter brilliance but I can't deny or ignore the despair that's eating you and me.
People keep telling me to pull up my socks, take responsibility, get a grip and learn to keep a stiff, upper lip.
They've got their dignity and they've earnt their respect by fitting in, doing their jobs and trying their best.
This makes them the voice of reason so I should take heed and listen but you know I don't like what I hear.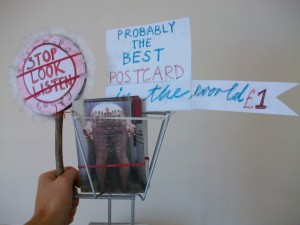 So, come the cultural rain and thunder, for my cloud is so ready now to burst.
For I feel the social storm that's been brewing now for far too long.
It's time for Mother Nature's children to be heard.
Likewise, I am trying too and I like mostly what I see.
And I love this life I am leading but I hate the bureaucracy of being me.